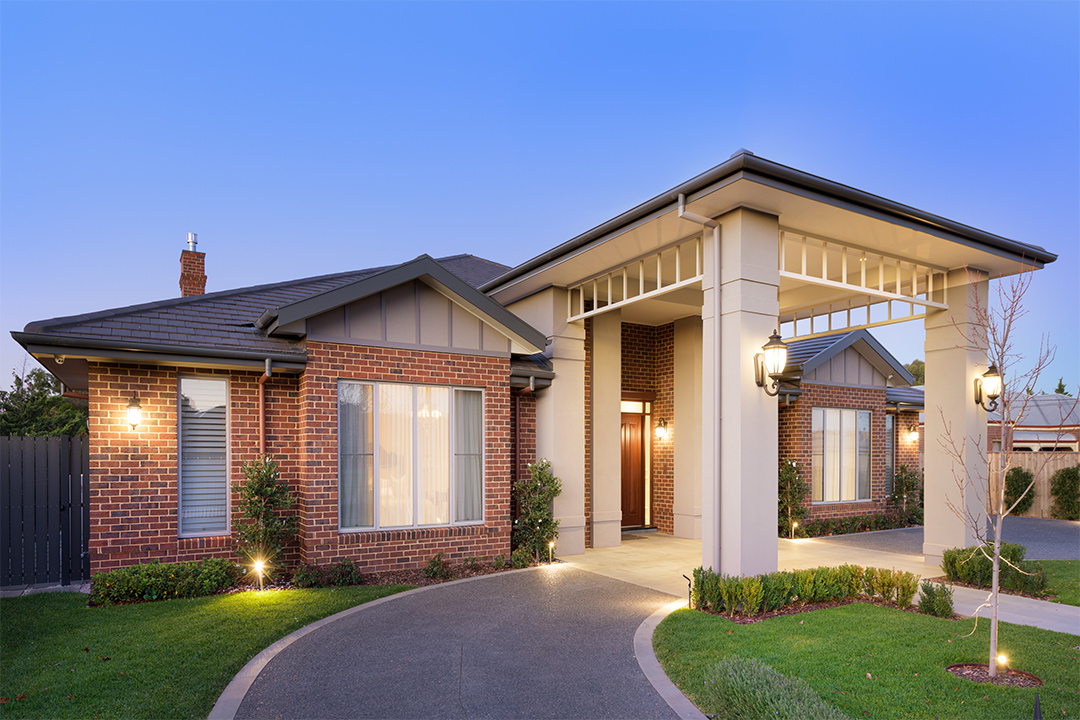 Englehart Homes Project 21
Hallmarked by exceptional workmanship, impressive attention to detail and the finest materials, this beautiful single-story home is unmistakably distinguished as a build by Englehart Home. A horseshoe driveway complete with a portico allows the family and any guests to drive through and provides covered access to the home. A garage built into the side of the sloping property enables this sprawling double-fronted property to keep its street appeal.
Passing through the home's timber doors, you are greeted by an equally impressive entryway. The sleek windows framing the grand double doors couple with a large leadlight skylight to allow ample natural light to flood into the hallway and bathe the surrounding rooms in sunshine. The home can be characterised by two zones, separated by a closing pair of feature glazed doors: the front hosts the commodious master suite, while the rear half is home to an expansive, kitchen, dining and living area with a private bedroom wing.
The master bedroom was specifically proportioned to match a hotel suite and is accompanied by a resort-style en suite and a substantial walk-in wardrobe. Granting the homeowners a tranquil space to relax in luxury at the end of the day.
Travelling down the corridor, a generous open plan living, dining and kitchen area commands attention. A large marbletopped island acts as the room's central hub with bar stools lining one side – perfect for meals together. A central skylight allows natural light to flood into the kitchen, adding to the room's bright and spacious feel. Demonstrating the kitchen is as practical as it is visually appealing, a large butler's pantry is hidden to the side of the kitchen, allowing any mess created while preparing food to be hidden away.
The living room features an inbuilt bar area, complete with a sink, making mixology a breeze while allowing the hosts to treat the guests without needing to step away from the entertaining area. Large concertina glass doors line one side of the room, opening out into a generous covered alfresco area – complete with an outdoor kitchen and fireplace to keep warm of Melbourne's cooler nights.
A private guest wing contains a further five bedrooms. Four of these rooms are serviced by a luxuriously fitted main bathroom while the main bedroom is appointed with a walk-in wardrobe, en suite bathroom and kitchenette, allowing this space to function as self-sufficient accommodation.
Established in 1908 by Ron Englehart, Englehart Homes creates bespoke, architecturally designed homes. Englehart was inspired to start his own company after identifying a gap in the market for those who wanted to build their dream home without the cost of an architect. Since its inception, Englehart Homes has received more than 100 industry awards. Today, the majority of its projects are custom-designed, though a number of these projects begin as a variation of its display-home designs.
With a focus on quality, efficiency, originality, and sustainability, the dedicated team are able to turn home buyers' dreams into reality at an appealing price. Englehart Homes is a member of the Housing Industry Association (HIA) and the Master Builders' Association (MBA). Ron Englehart was the inaugural chairman of the HIA Victoria Planning, Environment and Development Committee, and was the organisation's first national GreenSmart leader.
The company operates with the simple philosophy that all houses should have strong street appeal and pleasing aesthetics. The team believes that customer satisfaction is imperative, and they build with a keen eye for quality finishes and innovation.