The 33rd Dulux Colour Awards
Now in its 33rd year, the prestigious Dulux Colour Awards celebrate courageous and innovative uses of colour in the home-design industry. With a record of more than 430 entries, the 2019 awards drew emerging and established designers and architects from across Australia and New Zealand to a gala event at the National Gallery of Victoria in celebration of the winning projects, which were recognised across eight categories.
Melbourne Home Design + Living speaks with one of the judges for 2019, Carole Whiting of Carole Whiting Interiors + Design, about the Victorian-based winners of the single-residential categories and their creative and considered uses of colour, which are sure to inspire your next renovation or construction project.
During the judging process, was it hard to reach a unanimous decision about the winners for this year?
CW: The judging process is very difficult – there are so many projects of high calibre to select from. You have to be quite brutal at eliminating the bulk of the entries to narrow it down. We engaged in rigorous debate over some categories, while others offered a standout project making it an easy decision. I think the jury was well balanced; we allowed each other to offer considered opinions and there was a willingness to listen as well as contribute. I loved being a judge in this year's Dulux Colour Awards. It was a pleasure and a privilege to see all those designers' work in one space and a joy to work with the other jurors to select the winners.
While every project entered in this year's awards are unique, were there any commonalities between the winning projects in terms of their use of colour? If so, what were they?
There was a lot of green this year. Designers are taking inspiration from the exterior surrounds to bring these tones inside, hence the green influence. In the commercial projects, there were a lot of strong and bold colours – deep reds and big colour combinations. It seems colour is loud and proud this year.
What made the Caroline House project by Kennedy Nolan the clear winner of the Residential Interior category?
The Caroline House project had one really big idea. The central staircase awash with a lavish green showed a solid commitment from the designers to create something iconic without overwhelming the rest of the home. Finding that balance is an art and the designers here have perfected that.
How can readers emulate the elements within the Caroline House project in their own home?
I think the message here is if you are going to make one strong element stand out, commit to the concept and go for it; don't be shy! However, be careful with your colour choice. This project used a finely tuned colour selection, counterbalanced with a lot of white
In what ways did the Alma Residence project by Studio Gorman stand out as the winner of the Single Residential Exterior category?
It was meticulously planned out. At first glance, you're not aware of the detailed consideration of the home's heritage elements. This project had quite a substantial palette but was cleverly curated to blend well.
What advice do you have for readers wanting to incorporate bold colours within their home?
Find that fine balance where the colour adds to the overall result without overly dominating; the winner used colour to enhance the project, not define it.
What advice do you have for readers looking to use the Alma Residence project as inspiration for their next project?
Use a designer if you are planning something like this. There were a lot of colours put together to create a harmonious result. It takes skill and restraint to make something like this work. This year's Australian Grand Prix winner was commended for their innovative consideration of colour.
What are your main tips for readers wanting to experiment with colour within the home?
It's paint – it's something you can change relatively easily, so go for it! I think it's much easier to change paint colour than tiles or furniture for example, so take the plunge. If it doesn't work out, you've learned something and you can correct it. Use colour to add something, not just because green is your favourite colour. The use of colour works most successfully when there is context and a 'reason' for it.
Lastly, what colourways do you think will be popular as we head into 2020?
I think green will still be with us for some time. It's about what's around us in the world, and gardens offer a great inspiration. Terracotta and brick colours are also coming through. However, never discount white – it's a great colour and will never go out of style. Black and white is still a great combination, but perhaps there may be a softening of this towards charcoals and pale warm greys.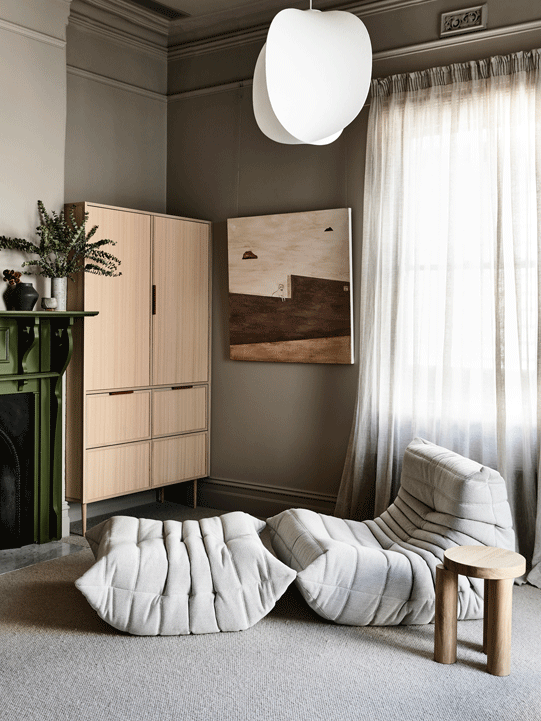 SINGLE RESIDENTIAL INTERIOR
Project: Caroline House (VIC)
Architecture/Design Practice: Kennedy Nolan
Judges' comments: "Classic black and white with a punch of colour is eternally effective, and its articulation in this home is especially inspiring. The balanced tonal distribution ensures a subdued spatial feel, enabling detail and texture to come to the fore. At the home's core is an inspired interation of colour: the near-apple green hue on the stair, including its underside and hand rail, is a central connecting device, mirroring the greens of the pool, itself a focal point of the home, and subtly aligning inside and out. It is timeless and understated or, as the architects state, 'meticulous and complete'." – Carole Whiting, director of Carole Whiting Interiors + Design
SINGLE RESIDENTIAL EXTERIOR
Project: Alma Residence (NSW)
Architecture/Design Practice: Studio Gorman
Judges' comments: "From the fabulous front door to the charming extension, the use of many and varied colours in this residence is sophisticated and refined. Anything but conservative, the subtle palette is full of surprising layers and complexity. Dulux colour Linseed takes on a green tinge against the existing red bricks in a beautiful juxtaposition. Soft blues distinguish the exterior extension and are amped up through the interior. Even the impact of shade on colour has been considered. Overall, the quirky combinations create an understated drama and cohesive take on contemporary Victoriana." – Mardi Doherty, director of Doherty Design Studio
WINNERS
GRAND PRIX
Giraffe Learning Centre (NSW) by Supercontext Architecture Studio
COMMERCIAL INTERIOR: WORKPLACE AND RETAIL
Winner: Giraffe Learning Centre (NSW) by Supercontext Architecture Studio, Commendation: The UNSW Bookshop (NSW) by SJB
COMMERCIAL INTERIOR: PUBLIC AND HOSPITALITY
Winner: Sable Drop (VIC) by Jackson Clements Burrows Architects, Commendation: Pentolina (VIC) by Biasol, Commendation: Curtin Think Space (WA) by Arcadia Design Studio
COMMERCIAL AND MULTI-RESIDENTIAL EXTERIOR
Winner: Flinders Street External Works (VIC) by Lovell Chen, Commendation: Walan (QLD) by Bureau Proberts
SINGLE RESIDENTIAL INTERIOR
Winner: Caroline House (VIC) by Kennedy Nolan, Commendation: Elmore Homestead (VIC) by Flack Studio, Commendation: Captain Kelly's Cottage (TAS) by John Wardle Architects
SINGLE RESIDENTIAL EXTERIOR
Winner: Alma Residence (NSW) by Studio Gorman, Commendation: The Bank, Vaughn (VIC) by Maria Danos Architecture
NZ GRAND PRIX
Winner: Wains Hotel Dunedin (NZ) by Yellow6
STUDENT
Winner: Reimagining Rail (VIC) by Diana Ong, The University of Melbourne, Commendation: The Performance Terrain Theatre (NZ) by Lauren Gibbs, Auckland University of Technology, Commendation: The Commons (NZ) by Abbey Hale, Auckland University of Technology
Top Image Credit: Prue Ruscoe
Bottom Image Credit: Derek Swalwel