The 2020 Building Design Awards
Every year, architects and building designers alike stand shoulder to shoulder in Melbourne at the Design Matters National Building Design Awards, which recognises the talent and vision of both industry professionals and emerging designers. Whilst the awards celebrated an unconventional 25th year last October, this is a testament to the resilience and drive of Victoria's building industry. Twenty-nine awards, one commendation and seven student awards were announced in front of 170 guests during a virtual ceremony, with the prestigious Building Design of the Year Award going to Maxa Design for Earth House.
Since its inception in 1996, the Design Matters National Building Design Awards has grown to become one of the most sought after accolades for environment professionals, and this strong focus on sustainability has inspired designers and architects to take their projects to the next level in terms of both environmental considerations and excellence in design. For the first time in history, two of the winners are certified passive houses: Earth House by Maxa Design, and Owl Woods Passive House by Talina Edwards Architecture.
Edited by Katie Livingston
Earth House
Aside from delivering an enviable living experience, Earth House is a boundary-pushing sustainable project in which every element of the home and site have been considered for holistic sustainable design, materials and performance.
This ground-breaking passive house was carefully designed to not only meet, but to exceed the highest standards in sustainable living. A certified passive  house 'plus', Earth House is energy neutral with an exceptionally low carbon footprint and all soil was re-used in construction to ensure minimal wastage.
The project's builder, CarbonLite, worked closely with Maxa Design to ensure that this pioneering modernist home was as luxurious as it was sustainable. Offering a spacious three
bedrooms, home gym, and indoor and outdoor dining areas, Earth House naturally maintains a comfortable 20–25 degrees all year round, and the small amount of heating and cooling required is supplied by a 3kW high-efficiency reverse cycle heat pump. All materials used are sustainably sourced, and CarbonLite's prefabricated wall and roof system, PanelLite, ensured construction waste was significantly reduced compared to typical building methods.
Dividing into two wings, the home utilises the slope of the site to create an earth berm along the south side, which provides acoustic and visual privacy from the nearby road. The northern wing is bounded by a curved rammed earth wall, which aligns with the western street boundary. Running east to west, the 'living' wing houses all three bedrooms and is partially 
covered by a green roof. A 10kL rainwater tank supplies all bathrooms, the laundry and dishwasher, whilst the green roof reduces water run-off, and improves insulation performance.
With every element carefully considered, Earth House exudes quality and ingenuity. Praised not only for delivering a very high standard of living, but for it's ability to achieve the strict requirements for the German Passive House Plus certification, this timeless, clever design has set a new benchmark for sustainable living.
Acknowledgements – Designer: Maxa Design www.maxadesign.com.au | Builder: CarbonLite | Photographer: Chris Neylon Photographer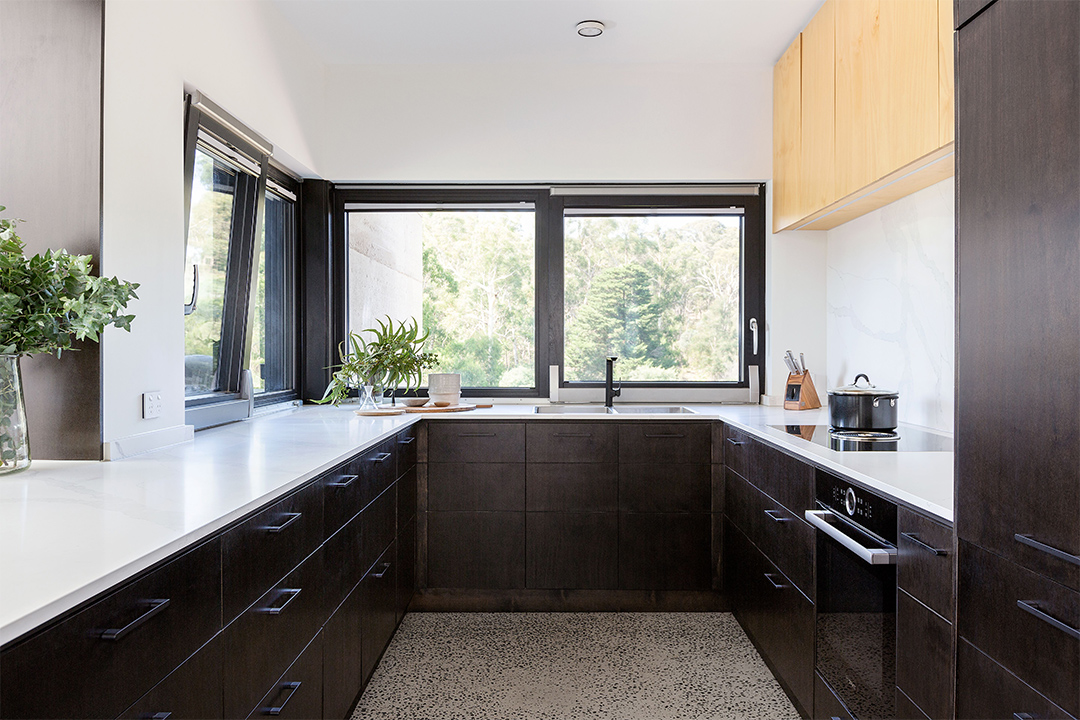 Prahran Townhouses by Sync Design
Residential Design – Multi Residential Less Than $6M
A chic urban delight, this stunning project from Sync Design boasts two triple storey townhouses, replete with the most impressive features modern living has to offer.
Sharing a modest 300 square-metre block, this pair of townhouses sit in a high-density metropolitan site and are surrounded by both residential and commercial properties. To avoid overshadowing the surrounding structures, the third floor of each house is hidden from view, thanks to the clever design of the home's second level.
The combination of only two contrasting materials for the exterior – polished concrete
 and Scyon Axon cladding – results in a timeless, sleek façade that blends seamlessly into the neighbourhood, whilst the homes' large double-glazed windows capture the imagination. Despite the project's reduced footprint, each home brags four bedrooms, both upstairs and downstairs living spaces and a rooftop terrace. The luxurious interior is enhanced with an abundance of sustainable features, including solar panels, inground water tanks, and commercial framed double-glazed windows.
Acknowledgements – Designer: Sync Design www.syncdesign.com.au | Builder: Anthony Larne Constructions | Landscape Designer: Plume Landscapes | Photographer: Jack Lovel
Ivanhoe Hybrid by Archsign
Commendation: Residential Design – Multi Residential Less Than $6M
Displaying a contemporary mix of materials and art deco flair, Archsign have crafted this striking multi-unit development to appeal to the Ivanhoe demographic.
Strong horizontal lines, feature cantilevers, gentle curves and glass brick accents contribute to the façade's art deco aesthetic, whilst the use of applied concrete and premium carbon neutral brickwork add a modern edge to the building. Eight triple storey homes, ranging from two to three bedrooms, comprise this sophisticated design; with each dwelling featuring an abundance of double-glazed windows to ensure a perfect balance of natural light throughout. 
This, coupled with high performance insulation, and the use of adhesives and sealants for optimal air quality, significantly reduces the need for heating and cooling appliances.
All aspects of this building were carefully considered to ensure it was as sustainable as it was visually appealing, with underground rain water tanks and energy efficient inverter systems installed to reduce the environmental impact. Its clever blend of styles harmonises with the streetscape and ensures that it will still be enjoyed for years to come.
Acknowledgements – Designer: Archsign www.archsign.com.au | Builder: FTR Constructions | Photographer: Jean-Luc Syndikas
The Snug by Green Sheep Collective
Residential Design – Alterations and Additions $350K-$800K
Lush and bright, this charismatic renovation by Green Sheep Collective transformed a poorly lit, rundown bungalow into an open, light-filled abode.
Working within the limited footprint, The Snug wastes no space whilst delivering comfortable and sustainable living. Spacious, multi-functional living spaces, and exceptional indoor-outdoor flow combine with a generous backyard to form the optimal inner-city living experience.
Working within the parameters of the existing home, Green Sheep Collective supplied ample amenities, including three bedrooms and two luxe bathrooms, and utilising additional windows to make the most of the daylight. A small 18m2
 extension was included to supplement the available space, without encroaching excessively into the garden.
All aspects of the property were considered to deliver a design that responded to the site's orientation and slope to reduce the environmental impact of this renovation. The living areas were repositioned to maximise solar gain and enhance temperature stabilisation, whilst reversible ceiling fans and openable windows allow for ample cross-ventilation. In addition, Green Sheep Collective selected sustainable recycled building materials to further reduce the construction's carbon footprint.
Acknowledgements – Designer: Green Sheep Collective www.greensheepcollective.com.au |  Builder: Natural Build Vic | Photographer: Emma Cross Photographer
WINNERS OF THE 2020 BUILDING DESIGN AWARDS INCLUDED:
Building Design of the Year 2020
Maxa Design for Earth House
Residential Design – New House – Up to $500K
Joluca Design for Somerville Residence
Residential Design – New House – $500K-$1M
Talina Edwards Architecture for Owl Woods Passive House
Residential Design – New House – $1M-$3M
Maxa Design for Earth House
Residential Design – New House – over $3M
2bScene Design for Undulating Cubes
Residential Design – Alterations and Additions – Up to $350K
Beaumont Building Design for Bird St Project
Residential Design – Alterations and Additions – $350K-$800K
Green Sheep Collective for The Snug
Residential Design – Alterations and Additions – Over $800K
Rachoff Vella Architecture for Oh Deer Oh Deer
Residential Design – Best Small Lot
Green Sheep Collective for The Snug 
Residential Design – Heritage
Rachoof Vella Architecture for HMAS L02
Residential Design – Environmentally Sustainable
Maxa Design for Earth House
Residential Design – Interior
Sky Architecture Studio for Wyndham Beach House
Residential Design – Kitchen
Sky Architecture Studio for Wyndham Beach House
Residential Design – Bathroom
Nagy Design for Raw Reflection
Residential Design – Multi Residential – Over $6M
C&K Architecture for 1 Nelson St Ringwood
Residential Design – Multi Residential – Up to $6M
Winner: Sync Design for Prahran Townhouses
Commendation: Archsign for Ivanhoe Hybrid
Non-Residential Design – Commercial – Up to $2M
In Site for Multifunctional Garden Studio
Non-Residential Design – Commercial – Over $6M
Crosier Scott Architects for Killester College Performing Arts & Music Learning Centre
Non-Residential Design – Interior Design
Melbourne Design Studio for Do Shoes Come on Pallets? Yodgee Market Store
Non-Residential – Small Works Projects
Rachoff Vella Architecture for Concrete Collective
Non-Residential Design – Special Project
Melbourne Design Studio for Do Shoes Come on Pallets? Yodgee Market Store
Excellence In Use Of Concrete
AD Design Develop for Neath House
Excellence In Use Of Glass
AD Design Develop for Allen House Brunswick
Excellence In Use Of Lightweight Materials
Holman Designs for Black Swell
Excellence In Use Of Masonry
Green Sheep Collective for Boulevard House
Excellence In Use Of Recycled Materials
Melbourne Design Studio for Do Shoes Come on Pallets? Yodgee Market Store
Excellence In Use Of Metal
RB Building Design for The Blue Moon
Emerging Designers – Student Awards – Excellence in Documentation
Rocco Molluso (Homesglen)
Emerging Designers – Student Awards – Best Digital Presentation
Joint Winner: Michael Boer (Box Hill)
Joint Winner: Carolina Osejo (Homesglen)
Emerging Designers – Student Awards – Best Group Project
Zane Leist, Ramona Robinson, Brayden Tonkin (The Gordon)
Emerging Designers – Student Awards – Best Response To A Design Brief (Building Design)
Wayne Tindal (Homesglen)
Emerging Designers – Student Awards – Best Response To A Design Brief (Interior Design)
Invona Nagel (Homesglen)
Emerging Designers – Student Awards – Brian Morison Award
Wayne Tindal (Homesglen)
James Hardie Award
Sync Design for Prahran Townhouses
Past Presidents' Award
Crosier Scott Architects for Killester College Performing Arts & Music Learning Centre
People's Choice Award
Joluca Design for Somerville Residence