SUSTAINABILITY BY THE SEA
Australia is blessed with some of the world's most breathtaking beaches, and many of these stunning coastal regions are right here in Victoria. From the Bellarine and Mornington Peninsulas, to Phillip Island and the Great Ocean Road, there is a plethora of sandy shores to admire on our doorstep. The unique, yet harsh, conditions in these zones has created the perfect melting pot in which sustainable design can thrive. To learn more about the environmental advantages and impact of building in these areas, Tristan Lott sits down with Glen Wood, co-director of Coastal Haus.
Written by Tristan Lott.
FUTURE-PROOF
With a self-proclaimed bias for individualised home design and sustainable materials, Wood and his team at Coastal Haus have a wealth of knowledge surrounding the unique constraints and capabilities of sustainable design in coastal regions. It is for this reason that Wood believes designing and building go hand-in-hand when creating sustainable abodes. "Our preference is to design and build a house rather than [only] build," Wood says. "This allows us to direct and specify where we are able to [use] sustainable and energy-efficient products."
As society becomes aware of the larger effect of our environmental footprints on the health and preservation of our planet, sustainable design is quickly growing from a niche market to common practice and there are continuous, emerging developments. These innovations can be implemented at various design and construction stages to ensure that the process is equally sustainable to the final product, and are especially effective in coastal regions that are already blessed with a multitude of environmental benefits.
COASTAL CAPABILITIES
Living by the coast boasts more than just scenic views. The region is uniquely well-suited to a range of energy- and water-saving features that designers and builders such as Coastal Haus have found great success in implementing. According to Wood, this includes water retention systems, clever orientation and window placement, solar powered or subsidised systems, and geothermal heating and cooling.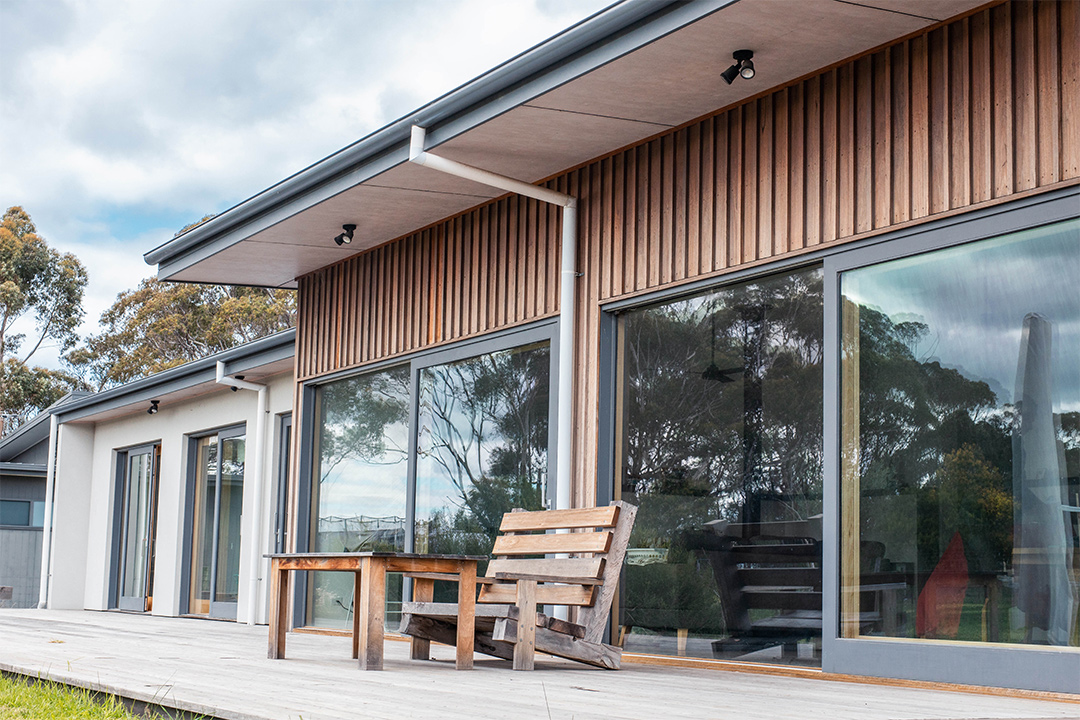 One thing these dwellings commonly benefit from is ample sunshine. This makes solar power not only a clever choice, but an obvious one. With the long-term benefits outweighing any immediate expenses, solar power is easily employed in coastal regions. Similarly, the advantageous sun makes for cost- and energy-efficient heating options with the help of passive home design. Passive design takes advantage of a home's locale and orientation to maintain a comfortable temperature no matter what time of year. Insulation, ventilation and window placement can all be carefully considered to ensure organic heating and cooling. For example, north-facing windows are an excellent way to ensure the warmth of the sun can penetrate the home no matter the season. "Orientating the design to capture the sun's benefits places a huge [advantage] on both energy consumption and thermal qualities of the home," Wood confirms.
There are also more personal health benefits to building along the coastline. The proximity of the ocean allows for a range of recreational activities, from swimming and surfing to sunbathing and hiking.
Furthermore, Wood confirms that there is a scientific element to the benefits of sea air: "Coastal air is said to contain more negative ions that allow the body to more easily absorb oxygen, with the cleaner air also having more health benefits." Wood says, "there is a more relaxed feeling and lifestyle living by the sea which no doubt is related to the immediate surrounds."
A LASTING FINISH
Building in close proximity to the sea opens the structure up to a wealth of conditions considerably harsher than their inland or urban counterparts. The salty air creates a corrosive environment and for this reason it is important to use sturdy materials that will withstand the rigours of everyday use without needing regular and costly maintenance.
Aesthetically harmonious with the environment, and also offering impressive durability and versatility, timber is the perfect material for coastal properties. Timber is also a more sustainable option as there are many suppliers who obtain their timber from renewable sources. Timber is additionally recyclable, and recycled timber offers an eye-catching and distinctive finish. "Sustainable timber claddings provide a true coastal feel to a design," Wood says. "Timber has the ability to withstand harsh conditions with very little maintenance." Alternative, sustainable materials include rammed earth, natural stone and bamboo. Even less environmentally friendly materials such as metal sliding and concrete can be constructed in a sustainable manner, so it's always best to speak with your builder or designer about what they recommend. When choosing materials for your coastal dwelling, be mindful of the finishings as any exposed areas can be susceptible to corrosion. "It is important to be familiar with products used that are exposed to the harsher coastal conditions," Wood advises, recommending the use of marine grade stainless steel for any exposed fixings.
Coastal regions pose specific challenges for those looking to make their home nearby, but the distinctive environment offers unique advantages when it comes to sustainable design. Adapting the design and construction process to accommodate these conditions, Coastal Haus has found great success in using environmentally conscious building practices to create efficient and sustainable coastal homes that will stand the test of time. Thanks to factors such as sustainable, yet durable, material choices and clever orientation, achieving a 'green' home on the coast is easier than ever.
Images courtesy of Coastal Haus