As the heart of many homes, where we come together with family and friends to dine on delicious food and thirst-quenching drinks, how a kitchen is styled and structured is an important reflection of the household as a whole. These days, as new houses are raised and modern design gradually replaces what once existed, foundations of a rustic style persist in kitchens throughout Australia – the French provincial-style kitchen. Embodying the charm and timeless elegance of the rural French countryside, this style is an ode to the old-world aesthetic, back when cooking was done by candlelight and electricity was fictional pipedream. Although French provincial-style kitchens have been modernised to keep up with the times, many aspects of the existing aesthetic still remain popular. To discuss the persisting trend of this classic design, editor for Melbourne Home Design + Living, Robin Harper, sits down with the design and technical specialist at Better Bathrooms & Kitchens, Hitika Gupta.
In a modern world of straight edges and monochrome palettes, some may yearn for the days of classic wooden cabinetry and deep, basin-style sinks that harken back to a simpler era of living. If you're an old soul that finds yourself leaning towards old-school aesthetics, you've come to the right place. We'll unpack the components that make up the French provincial aesthetic, what aspects continue to be popular, and how you can incorporate this style of kitchen into your dream home. Gupta is the newest member of the Better Bathrooms & Kitchens family and has a wealth of knowledge regarding the topic. With a Bachelor of Architecture and an advanced diploma in Architectural Building Design, she is here to shed some light on all things kitchens.
La Qualité Nonpareil
To truly discuss a French provincial-style kitchen, let's unpack the aspects that you might typically find in this kind of aesthetic. On this, Gupta enlightens us: "Characterised by their refined aesthetics and attention to detail, French-style provincial kitchens typically feature intricate mouldings, ornate cabinetry and decorative accents," she says. She then continues, "The colour palette often includes soft, muted tones such as creams, whites, pastels and earthy hues, creating a serene and inviting ambience."
Suffice to say, the intended purpose of this aesthetic is to be inviting and warm. This is the kind of kitchen you can return to at the end of the day and still be excited to get cooking. "One of the key elements of a French-style provincial kitchen is the cabinetry," says Gupta. According to her knowledge, the cabinetry is typically made from high-quality wood – oak, cherry or walnut in particular – and are coupled with ornate detailing you wouldn't typically find in modern kitchens. "The doors often feature raised panels or glass inserts with delicate mullions, adding a touch of sophistication," she says.
There are also other characteristic elements at play in the French provincial. Gupta says that a defining feature that you would generally find in this style of kitchen is an abundant use of natural materials. "Stone or marble countertops, often in lighter shades, provide a durable and elegant surface for food preparation. Exposed ceiling beams, stone or tile flooring, and a farmhouse-style sink are common elements that contribute to the rustic charm and authenticity of a French-provincial kitchen," says Gupta.
LE STYLE, C'EST TOUT
As styles and aesthetics come and go, there is only ever a handful that remain popular in our modern age. French provincial-style kitchens continue to be found throughout Australian homes, whether through renovation or entirely new builds. But why? What is it about this aesthetic speaks to us so much? Gupta throws her two cents into the mix: "The enduring appeal of the French provincial style kitchen aesthetic in the modern age can be attributed to several key factors. First and foremost, this design approach exudes timeless elegance and sophistication," Gupta says. "The beauty of the French provincial style lies in its ability to seamlessly blend classic elements with contemporary sensibilities, creating a harmonious balance between old-world charm and modern functionality," she explains.
"One reason for its persistence is the emphasis on craftsmanship and attention to detail," she continues. According to Gupta, French provincial-style kitchens are known for their "intricate mouldings, ornate cabinetry and exquisite finishes. These handcrafted elements showcase the artistry and skill of traditional craftsmanship, appealing to those who appreciate the beauty of well-made, bespoke pieces."
Undoubtedly, one of the main draws of the French provincial-style kitchen is the attention to detail. To achieve that old-world aesthetic, it requires the same old-world care and skill. As such, if you're aiming for this type of look, it's recommended to put your faith in artisans who are experienced in implementing this style into your kitchen.
CHEZ MA CUISINE
If you're convinced that the French provincial-style kitchen is the dream kitchen for you, Gupta shares her advice on how to prepare for it. First, research and identify authentic brands by focusing your efforts on brands that specialise in producing provincial aesthetics and offer products that come in soft colours such as cream and pastels. Second, consider manufacturers that offer customisation options so that they can tailor design elements to your specific preferences, such as the colour, handle style and other additional features. Lastly, seek professional guidance by consulting kitchen designers, appliance specialists and home renovation experts who know their way around a French provincial-style kitchen.
Ultimately, the best way to pull off a French provincial-style kitchen, according to Gupta's professional opinion, is by working closely with a skilled designer who knows what they're doing. "Enjoy the process and let your creativity shine as you transform your kitchen into a space that is both functional and visually capitating," she says.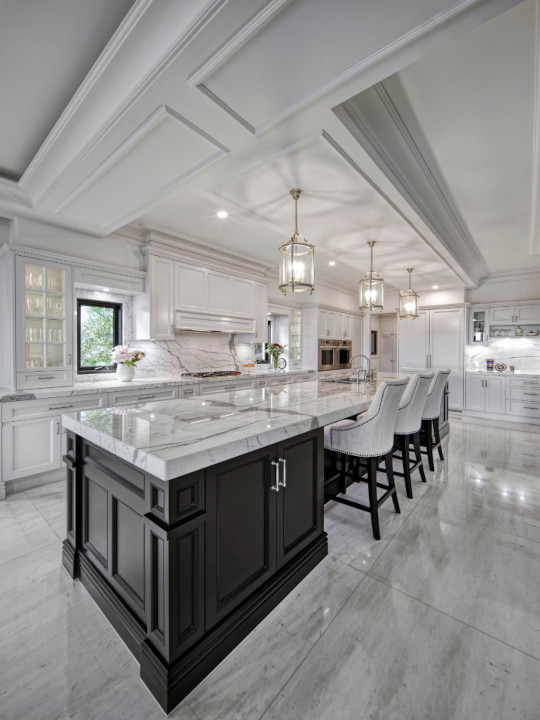 Images courtesy of Better Bathrooms & Kitchens