Timber is a simple, adaptable and timeless product. For millennia we have utilised wood in built spaces, and while its structural properties are well-known, it seems its strength and versatility aren't the only things it has to offer, as Lucy Mackey discovers in conversation with Grant Jennings, the managing director of Jigsaw Projects. Read ahead to learn how including more timber in your home can enhance your wellbeing.
When asked to describe rooms that feature timber, the words 'warm', 'cosy' and 'calm' often come to mind. Without realising, many people are intrinsically aware that being surrounded by an organic material such as timber is beneficial to their mind, body and soul. In Grant Jennings' opinion, "wooden textures add warmth and a feeling of cosiness, which promotes a calm and relaxed state both mentally and physically."
Numerous studies report that spaces featuring timber are linked to lower stress levels, increased creativity and productivity, and lowered blood pressure and heart rate. With such a raft of benefits, as well as timber's status as a renewable, carbon-storing material, including more of it in your build or renovation could be a sensible choice.
NATURE KNOWS BEST
Today, the average Australian spends 90 percent of their time indoors. While it's not necessarily possible to mitigate this, we can try to appease it. Nature-connected design places its focus on bringing the well-known psychological and physiological benefits of natural environments into built spaces.
The relatively new field of neuro-architecture is the study of how specific parts of built environments influence psychological and physiological responses. There's a growing body of research that links exposure to wooden textures to lowered amounts of stress, heart rate and blood pressure, and an increase in self expression, creativity and productivity in offices, schools and hospitals. 
"Being a natural product, wood is associated with the same feelings we undergo when out in nature." Jennings says. As a preeminent natural building material, and the only renewable building resource we have, timber is key to achieving a nature-connected design in your home.
MANY FORMS
Wood is one of the most versatile products on the market, and when you consider the thousands of different species of tree, each producing wood with unique grain variations – even among members of the same species – and the numerous ways that wood can be treated, oiled and stained, the possibilities are endless.
"What I appreciate the most, is how highly adaptable timber is," Jennings says. "You can nail it, glue it, cut it and shape it into just about any form you desire – but I am particularly biased as my background has always been in carpentry."
WOOD FOR GOOD
Inspired by the challenges posed by the venerable oak tree growing on the property, Jigsaw Projects' Camberwell project (pictured) is the perfect example of how timber can be integrated in a clean, contemporary way. "While still connected to the main residence, the owners wanted this additional living space to blend into the surrounding outdoor landscape," Jennings says.
Taking advantage of the wide range of timber tones available, the team created striking contrast between exterior elements such as the honey-blonde window frames and the rich, dark cladding. Inside, simple timber accents are paired with clean, white surfaces to create a tranquil living area flooded with natural light. Environmental factors were also taken into consideration.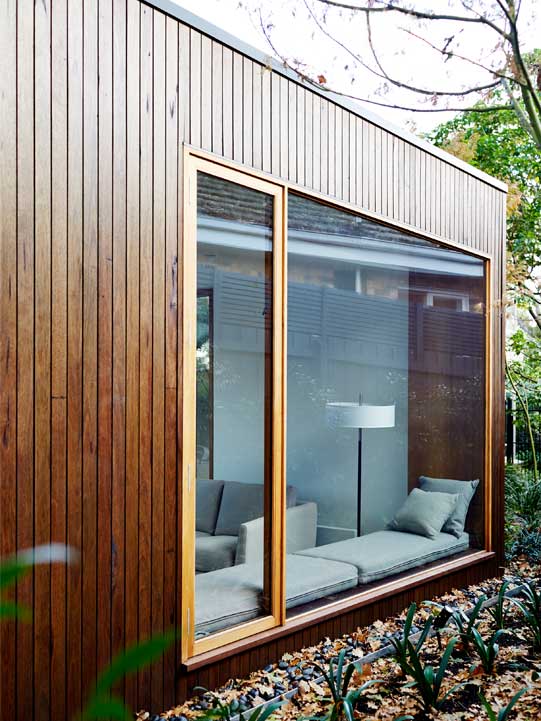 "All timber cladding and decking was sourced from radially sawn Australian hardwood, which is a method of milling that produces more timber with less wastage," Jennings explains.
TRUST THE TRUSSES
Most Australian homes begin with a timber frame, so making the structural elements of your home double as aesthetically pleasing features can be easily achieved.
"Exposed roof trusses or beams can make a great internal feature, adding texture and visual interest to an area that is often quite boring," Jennings says. Beams don't have to be loadbearing, either. "Feature beams that are nonstructural can also be added to a ceiling." For .an organic look, Jennings suggests utilising tree trunks or whole logs in place of support posts.
FLOOR TO CEILING
If you're looking to create a striking feature in your home, you don't have to opt for bright paints or tiles. "The use of timber will add form and texture [to your space]," Jennings says. "A large variety of shapes, sizes and patterns can be incorporated to create a unique feature within your home."
A feature wall is an ideal way to showcase reclaimed timber, Jennings suggests. "As well as being a great environmental choice, using reclaimed timber is often very stable and durable, as it has already survived a lifetime." It also brings its own unique character and history.
Feature ceilings also look stunning in entrance ways, large open-plan kitchens and living areas. "We are seeing innovation in the variety of patterns and sizes in which timber can be applied, particularly on walls and ceilings," Jennings says.
Fascinating patterns can also be created by taking advantage of timber's natural variation. "Another thing to consider in the design of wall and ceiling features, is the incorporation of lighting. This will add another layer of dimension, enhance the warmth of the timber, and give it life at night," Jennings says.
If there is one area of your dwelling that should feel calm and welcoming, it's the kitchen and living area. Of course, the tried and true way to include timber in the design of these areas is in their flooring or cabinetry, though other options such as feature shelving and island bench cladding shouldn't be overlooked.
"Dining tables built adjoining island benches will not only add interest to the space, but are also very functional," Jennings says. "Live-edge timber tables also make a striking feature."
As it's a natural material, wood is equally at home in a contemporary style abode as it is a heritage-listed beauty. "Timber-battened feature walls and ceilings are often used in modern designs," Jennings says. "However, timber can also be used to great effect in contemporary-style staircases, in either treads or balustrading." A custom-designed, oversized front door can also look amazing in a contemporary setting, and is a beautiful way to establish a warm atmosphere in your home from the outset.
There is a multitude of reasons to integrate timber into your home, and so many ways to do so. "The inherent flaws and imperfections are what makes the product beautiful," Jennings says fondly. "Work with them rather than trying to overcome them." Do this and you're sure to come away with a stunning home that revitalises you each day, without ever having to step outside the front door.
Images courtesy of Jigsaw Projects