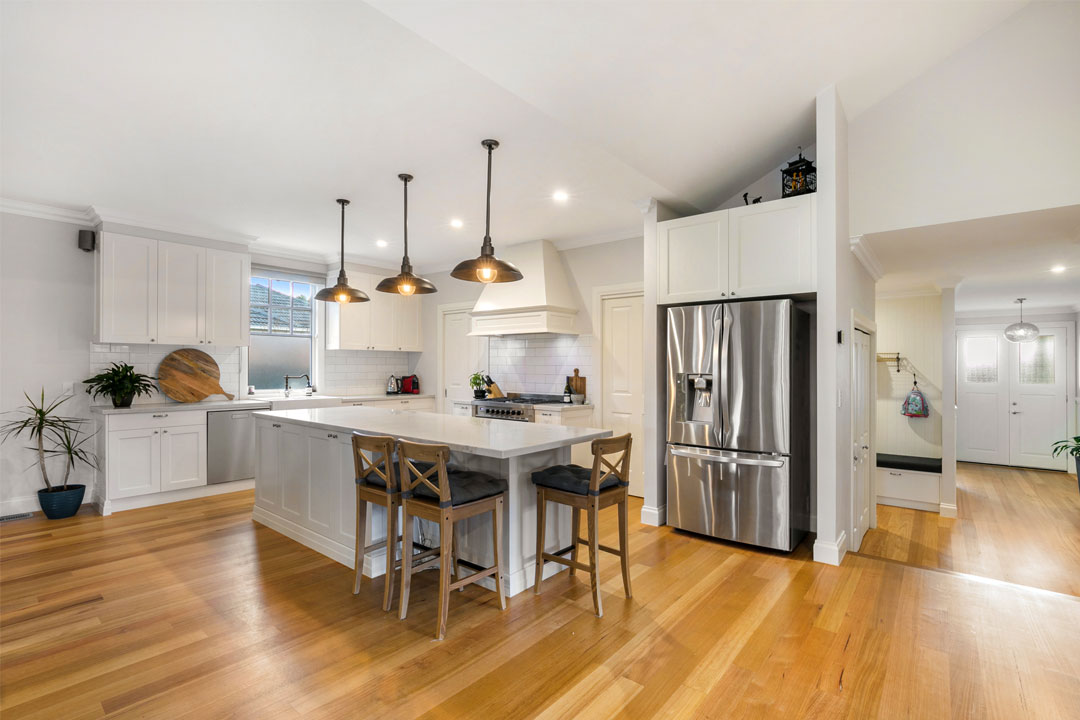 Featuring Hamptons-inspired exterior styling, the home's façade epitomises the classic yet paired back aesthetic of the style to perfection. A visually appealing abode, the solid timber accents along the roof and windows are perfectly complemented by the vibrant two-toned paint selection, completing the look.
The home was specifically designed to cater to the needs of a growing family, and features thoughtful inclusions such as expansive separate living spaces, a designated home office, and a mud room, which can be accessed internally via the garage.
The main bedroom and study are within close distance to the multiple living zones, which encourages seamless single-level living. The home's upper level is a dedicated children's retreat, complete with ample space for play and generous-sized bedrooms.
The environmentally conscious design exceeds the standard 6-star energy rating and includes double glazing throughout, bulk insulation, and a rainwater tank, which provides reticulated water to the home's flushing systems.
Jigsaw Projects is a boutique residential building company that specialises in the construction of custom-designed new homes, renovations, and additions to existing properties. The company builds approximately 8-10 projects annually to ensure every project is individually tailored to the client's needs.
The company is well versed in all aspects of residential design, and has particular experience in working with heritage and historical features of a home. Jigsaw Projects is highly knowledgeable in identifying what elements of a period dwelling need to be retained, and how to seamlessly incorporate these unique characteristics into an updated design.
Offering a personalised service to all clients, the company understands the importance of perfecting your house, and prides itself on working closely with clients from concept to completion for the best result. Jigsaw Projects also offers interior design services.