Being one of life's simple pleasures, the warmth, comfort and communal aspects of a fireplace are just some of its many alluring qualities. A way to unite friends and family in conversation, and bring solace to even the most unexpected – or unprecedented – circumstances, the home fireplace promotes energy independence, aesthetic value and contentment within the home. In conversation with Scandia Group's chief operating officer, Graham Wright, Bethany Hayes explores the ins and outs of home fireplaces; from unique tips, essential accessories and how you can ensure your flame burns brightly all winter long.
A barbecue conversation almost eight years ago
became the catalyst for Graham Wright's transition into the fireplace industry. Now at the helm of one of Australia's most iconic fireplace-designing companies, Wright and his Scandia Group team seek to enhance what is already one of life's most cherished moments; enjoying the warmth of fire with your loved ones. Read on to explore expert guidance on crafting the ultimate
home fireplace for your unique dwelling and lifestyle.
FIRES OF OLD, FIRES OF NEW
If thinking of your dream kitchen has you envisioning a classic and timeless feature to any home – not to mention an incredible hit at social gatherings – each individual's definition of the perfect fireplace will be different. For Wright, the definition of the perfect fireplace is simple: "One that is aesthetically pleasing, a considered choice, designed to heat the space in which it is located, [and one that] creates a visual centrepiece that makes it almost irresistible to walk past."
Like everything else in life, the fireplace too has
evolved over the years, keeping up to date with
modern technology. While its structural elements and function of warmth, light and heating remain the same, the standards to which these fires must be created continues to grow. "The evolution of solid fuel appliances has been so significant, that under current Australian standards, wood heating is now the most sustainable and environmentally friendly form of
heating available," Wright explains.
When deciding on a fireplace design for your home, there are a few crucial factors worth considering. "Australian consumers are very discerning when it comes to purchasing a fireplace; they want something that has timeless appeal, quality performance, robust construction and [is] easily serviceable," Wright explains. First and foremost, consider how large the area you need to heat is. "If you choose a fireplace that is
too small it may not meet expectations, but if you choose a fireplace that is too large, it may overheat the area or alternatively not operate efficiently," the operating officer notes.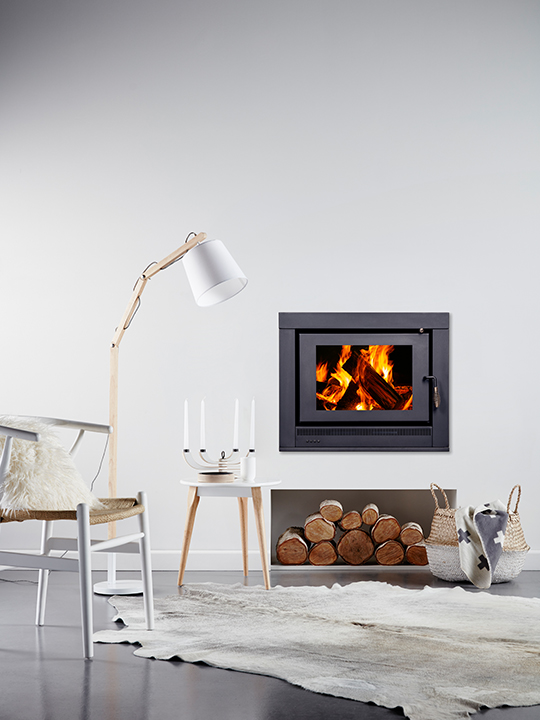 Secondly, Wright advises homeowners ask themselves if they intend to use this fire as their primary source of heating. "If so, selecting the right type is crucial," he attests. "If you are just buying [the fireplace] as a secondary source [of heating], primarily for ambience, then the choice is not as critical."
Next, consider whether the location you have chosen for the fireplace in your home is suitable. Remember to check clearances to combustible items, and roof obstructions. From there, you'll want to select a style of fireplace that suits your home, whether it is traditional or contemporary, radiant or convection. While this may seem overwhelming, engaging a professional installer should take care of this for you. "Installing a wood heater is both an art and a science," Wright says. "Those who know the secrets rarely share them, but take it from us: your experience will be much better if you choose an experienced professional."
IGNITE YOUR SPARK
The pinnacle of relaxation, spending nights by the fire is certainly a welcome way to end the week – and what better place to do this, than in an undercover alfresco dining space. "At our place we have an Avante open fire, which includes a charcoal grill for the best steaks you could imagine!" Wright says. "Those looking for an enclosed fireplace should consider a radiant appliance like the Edge 50, or a Heat & Cook as preference over a convection model with a fan."
For a fire to be truly roaring, fire-safe accessories to help maintain the flames are a must, including "a pair of quality fireplace gloves" which will ensure "interaction with your heater is safe and simple". While cleaning your fireplace is never as much fun as basking in its warmth, it is necessary to remove cold ash, residue and ensure your fire ignites easily in future uses. "Our pro tip: always leave a thin layer of ash in the ash bed whenever you clean it out. This will promote ignition and ultimately lead to more efficient performance," Write shares.
A Scandia Ash Vacuum is an effective way to remove cold ash from the firebox, while Wright assures that a quick wipe of the fire's safety glass with dry glass cleaner will remove any residue creosote, providing "uninterrupted views of the fire, without the need for any chemicals".
If you're someone who likes to feel the warmth from the fire, consider a radiant heater. With these heaters, the external surface on the wood fire is what "radiates" heat to warm objects around the fire – the closer the object, the more warmth. "Radiant heaters are great for open-plan indoor spaces, and undercover outdoor areas; ideal for those who like to 'feel' the fire while watching the flames."
WARMING OUR HEARTS
With so much time spent in our homes during the past year, there really could be no better time to have a fireplace that soothes, comforts and warms during uncertain times. "In the context of COVID-19, sales of all wood-fired appliances grew significantly during lockdown," Wright says. "That kind of warmth that heats your bones created a real sense of comfort and
contentment in very challenging times."
A fantastic addition to any home, a fireplace provides much more value than the flame that meets the eye. A comforting, stylish and value-adding addition to the home, the home fireplace is the perfect catalyst for conversation. Seeking advice from the experts will leave you in an ideal position to be warming your home from the inside-out.
Images courtesy of Scandia Group