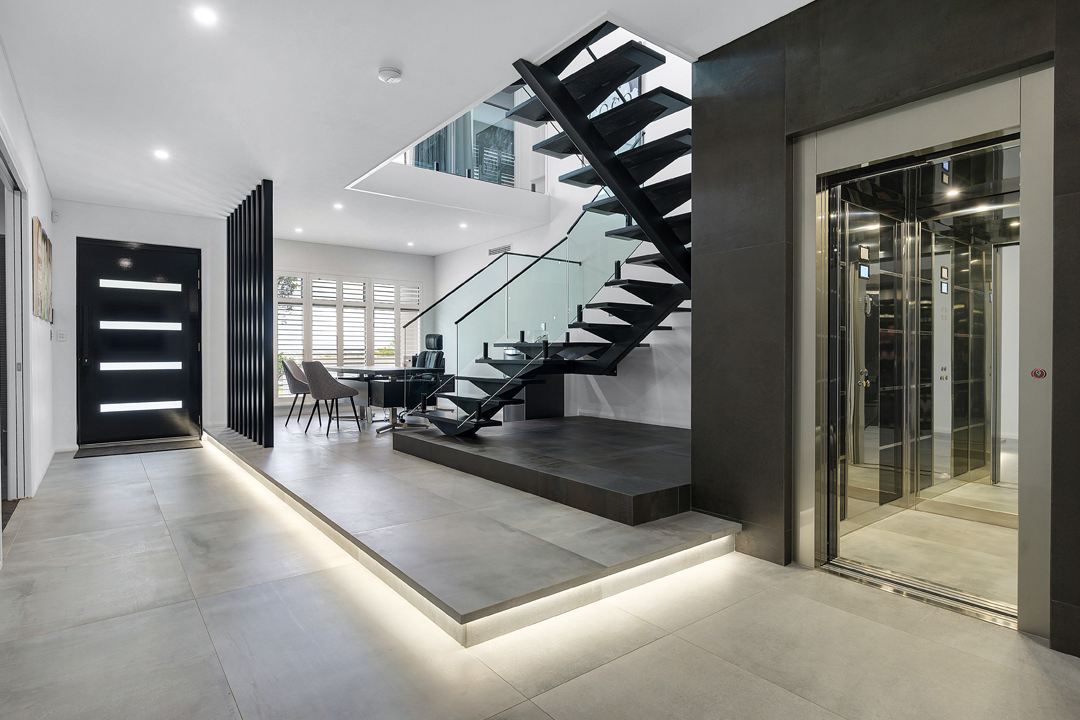 As a luxurious design feature and value-adding asset to your home, residential elevators are a shining addition to any renovation or new build. They're perfect for those looking to future-proof, increase accessibility or simply create a more liveable home environment. Here, Melbourne Home Design + Living's Jacqueline Foy speaks with Melissa Hull, head of marketing at Platinum Elevators, to share in her insight into all the ways a home elevator can improve the way you experience your space every day and into your future.
With an ageing population and the growing prevalence of disabilities, the need for accessibility solutions is becoming increasingly apparent, particularly in larger homes and multi-story residential buildings. With a heightened demand for residential elevators in Australia, they are becoming an important factor to consider for any modern home design. For those with limited mobility, an elevator provides a way to get around a home safely and with ease, and for others, they can be a great value adding asset to a home, acting as an elegant and luxurious design feature. In 2014, Platinum Elevators saw an opportunity to do things better in the elevator industry – to set a new standard for style, value and engineering excellence. Hull says the team sought to do things differently right across the board, taking control of design and manufacturing to ensure strict standards for quality assurance are met in all aspects of the business.
Future-Proofing
Hull's customers install residential lifts for a wide variety of reasons. This can vary from future-proofing, to resale value, to keeping your family in a home you all love. If you're getting older and struggling with mobility issues, a residential elevator is an excellent way to regain some independence or remain in your family home for longer. As a registered provider for the NDIS, Hull and the team at Platinum Elevators work with many customers who have disabilities or mobility impairments. "We had a customer who had had a stroke and went from being non-disabled to becoming a disabled person and not able to access the first floor of their home," Hull says, noting this was both a heartbreaking and frustrating experience for the customer. "We were able to retrofit a lift into their home, which has given them the independence and confidence to be able to be home alone and not confined to the ground floor," she says. A residential elevator is a freeing answer to mobility issues for both the ageing and disabled population, providing a safe, dignified and reliable way to navigate your home. "This is one of many examples we see of how a home lift can provide increased accessibility and independence for our customers," Hull says.
Increasing the accessibility of your home does not stop with the installation of a residential elevator. "Outside stairs can be replaced with ramps, you can also add handrails in the home where required to assist with mobility," Hull suggests. You can also consider widening corridors, doors and living spaces to allow your space future adaptability and freedom of movement. Including liveable or adaptable design features in your build or renovation that not only create a home with fewer restrictions for those who visit your home, but also reduce or eliminate the cost of retrofitting accessibility elements in the future. Owners of homes that are built with accessibility in mind can live comfortably for decades. "If you are looking to future-proof your home, we recommend considering enough room in your lift for a wheelchair," Hull says. "Although it may not be front of mind now, you will thank yourself in years to come," she says.
A Touch Of Luxe
A residential elevator stands out as a luxury factor that cannot be underestimated, providing a touch of glamour and sophistication to a home alongside their excellent functionality. Many of Platinum Elevators' customers use lifts as a standout design feature in their homes. "There are several ways you can customise your elevator to complement your aesthetic, such as matching the lift doors to your wall colour or cladding," she says. "Another popular option with some of our customers is to continue the flooring from the rooms of the home to the elevator itself. This could be timber flooring, carpeting or even tiles," she continues. By customising your lift, you can increase the continuity between your home design and your elevator and integrate it into your home design cohesively.
Having a home elevator as one of your home's features may well become a key selling point if you are looking to increase the value of your property. With a residential elevator, you can optimise the use of space in your home. As they occupy a smaller footprint than a standard stairwell, they can be built in ways that effectively open up previously unused space. With more usable space, residential elevators can significantly increase a home's resale value.
Overcoming All Challenges 
It can be hard to know where to start when embarking on any renovation or building project, but Platinum Elevators are able to talk you through the process and put your mind at ease. "We have worked with customers who are building cliff-facing homes [and] customers who have very specific design challenges. Whatever your floorplan, we can accommodate an elevator," Hull says. Platinum Elevators' dedicated project managers will work with your architect or builder to ensure that all plans align with your home's specifications. Naturally, you'll consider how much space you have for a lift shaft before commencing your search for a lift. If you are unsure, you can show your floorplans to Platinum Elevators' team of experts. It may be that there is an alternative space that they can suggest. A residential elevator can make your home more attractive to potential buyers, particularly older ones, but also those just looking to add a touch of luxury to the way they experience their space. If you are thinking of adding a lift to your home, Hull leaves us with some final advice to ensure a smooth process: "Do your research and choose a lift company that is open with you and takes the time to explain what is involved i investing in an elevator. Purchasing a lift is not a one-off; you are entering a relationship with the lift company for as long as you own your home," she advises.
Images courtesy of Platinum Elevators 
Image Credits: Platinum Elevators