Each year renovators and home design professionals across the country eagerly
await Dulux's predictions for colour use in the home. Here, Melbourne Home Design +
Living showcases the four distinct palettes in its 2019 Colour Forecast to inspire and
enrich your design choices in your next interior project.
Emerging at a time when social media dominates and the pressure of living our 'best life' is keenly felt, recent design trends reveal a common desire for a return to uncomplicated, honest living. Providing a counterbalance to our media-heavy society, textural material palettes featuring organic shapes, frayed edges, and repurposed vintage furnishings are finding a place in the global home design zeitgeist. To complement this visual evolution, Dulux has moulded their 2019 Colour Forecast, dubbed Filter, around earthy neutrals, saturated greens and citrus brights – hues as diverse as our life experiences both personally and as a collective.
Informed by thorough research and far-reaching world travels, the multi-faceted 2019 forecast brings together soothing neutrals, energising brights and deep, rich hues that play to our nostalgic proclivities. Four distinct yet complementary themes – Repair, Wholeself, Legacy and Identity – comprise the collection, which aims to help us find joy in carefree creativity.
"This year's theme, Filter, speaks to our collective craving for individuality and personal expression," says Dulux colour expert Andrea Lucena-Orr. "It helps us mindfully tap out all the distractions and focus on the things that move and inspire us. Our confidence with colour is growing, and with this the drive to create spaces that reflect our history, hopes and dreams. Mindful consumption is a key theme for 2019 and we can expect to see a paring back of the unnecessary and a greater emphasis on repurposing and reimagining the objects around us. The result is a new kind of bespoke where the traditions of the past are celebrated in dynamic and modern ways."
"Our confidence with colour
is growing, and with this the drive
to create spaces that reflect our
history, hopes and dreams."
– Andrea Lucena-Orr
Redolent of Mother Nature and fresh beginnings, the cocoon-like Repair palette – replete with rich greens and spicy traces of cinnamon and sienna – may inspire you to turn over a new leaf. It's also Lucena-Orr's favourite theme in the collection. "I love its muted, tonal combinations and slightly off-beat, vintage feel. It sets a warm, nurturing mood in a space and creates the perfect backdrop for timber, leather and unusual collectibles," she says.
Taking a more gentle approach, the Wholeself palette reflects our desire to find wellness and mindfulness in an information-saturated world in which our attention is an incessantly and desperately sought commodity. Calming shades of mauve-grey, powdery pinks and touches of gold in this theme will help you disconnect from the demands of technology, breathe, and get back into your unique groove. "From our global research it's clear there will be an emphasis on wellness and mindfulness in 2019 and the Wholeself palette really plugs into these themes," says Lucena-Orr. "With its soft, light tones and subtle layerings of texture, it's a palette to ignite the senses and revive a tired spirit. It's also easy to decorate with existing whites and cool neutrals, which I believe will make it a popular choice for home enthusiasts."
For those seeking more intensity in colour, the Legacy palette showcases saturated hues like deep purple, russet and aqua, balanced with brown-based pinks. The effect harks back to the theatrics of a bygone era. "The Legacy palette is timeless yet thoroughly modern. Think rich colour, classic furniture and sumptuous textiles used in unexpected ways. For example, these colours may be set against a streamlined backdrop or styled with an industrial edge," says Lucena-Orr. "Purple has emerged as a base colour and is softened by paler shades of lilac and mauve – it's a palette to push your creative boundaries."
Crafted for the rule breaker, the Identity palette is organised chaos in visual form. You'll spot clashing patterns, unusual pairings and daring
brights here, and the result is undeniably cheery. "Featuring striking blues, purples and shades of citrus, this palette encourages you to incorporate a playful side into your décor," says Lucena- Orr. "These colours command you to be brave and experiment with unique looks in the home. They translate particularly well in the bedroom – a nurturing space that's all about you. Paint the door, a piece of furniture or a feature nook in a bright and invigorating shade and watch the room come to life."
Full of variety – without dropping the ball on overall cohesion – the 2019 Colour Forecast has something for every interior revamp. "Whether you choose to go all-out and paint an entire room or simply add some accents, you'll be amazed at the transformative effect of colour," says Lucena-Orr. "Incorporating one or more colours from any of these four palettes will bring your home right up to date. And if you prefer to take a more low-key approach, all these shades go beautifully with Dulux's Most Loved Whites as well as the neutral greys and greiges that are trending right now."
When designing your space, experimenting with texture in your palette can make all the difference to the final effect. "Textured paint creates a natural, tactile feel and looks incredible on feature walls, nooks and smaller pieces of furniture or accessories. Once applied, it adds another dimension to colour as the undulation of the texture creates an appealing shadow effect."
If you're feeling stuck for inspiration, or you're overwhelmed by the seemingly endless options before you, Dulux's Colour Forecast will be hugely helpful in identifying your personal style. Using whichever theme resonates with you most as a springboard into further research is a great way to begin, and as your concept begins to take shape, you can start to branch out. The result will be a refreshing modern space that is not only enviably on trend, but a faithful expression of who you are today and the person you hope to become.
From the music we listen to, and the news we consume, to temperature control and preferred GPS routes, our tap-in, tap-out lifestyle allows us to control our destiny down to the finest detail. However, the unpredictability of Mother Nature is a reminder that life is fragile – reduced biodiversity and overpopulation casts a shadow over our carefree existence. We are now taking a considered approach to the objects we use so that we may repair our relationship with nature and the world around us.
The Repair palette takes its cues from our need to examine our consumption and waste, favouring vintage, sustainable, repurposed and recyclable products. Comprising neutrals alongside dirty greens, yellow and earthy hues of cinnamon and sienna, Repair's colours exude warmth and a vintage feel.
With the ever-present glow of screens, rapid taps and swift swipes of our digital devices, our brains are in overdrive, craving simplicity, silence and a disconnection from screentime. In our search for wellness and 'wholeself' we look to clear the mental clutter by making our homes our temple with a calming, distraction-free zone.
With an overwhelming need to pare back, digitally detox, and mono-task rather than multitask in our busy lives, when at home the Wholeself palette celebrates minimalism through undulating forms. It also details sumptuous texture and block colour of cosy pinks, offset against warm neutrals, golds and mauve-greys.
Each generation brings with it a new intelligence, taking the best from the past and reinventing it for the present. We are distancing ourselves from damaging consumerist habits, recognising that every action has repercussions – a long-lasting legacy that will be felt for generations to come. Cherished traditions and age-old wisdoms are being adapted to rebuild the present into a better version. This balances rapid innovation and radical creativity with time-honoured skills and old-world charm.
With a focus on craftsmanship and an improvement in traditional skills, classic forms are envisaged and combined in modern and contemporary surroundings. The result is a nod to the elegant past and present, combining eclectic patterns and block colour. The Legacy palette features saturated colour in warm hues of pale pinks, lilacs and mauves, with accents of red, blue and green to punctuate the scheme.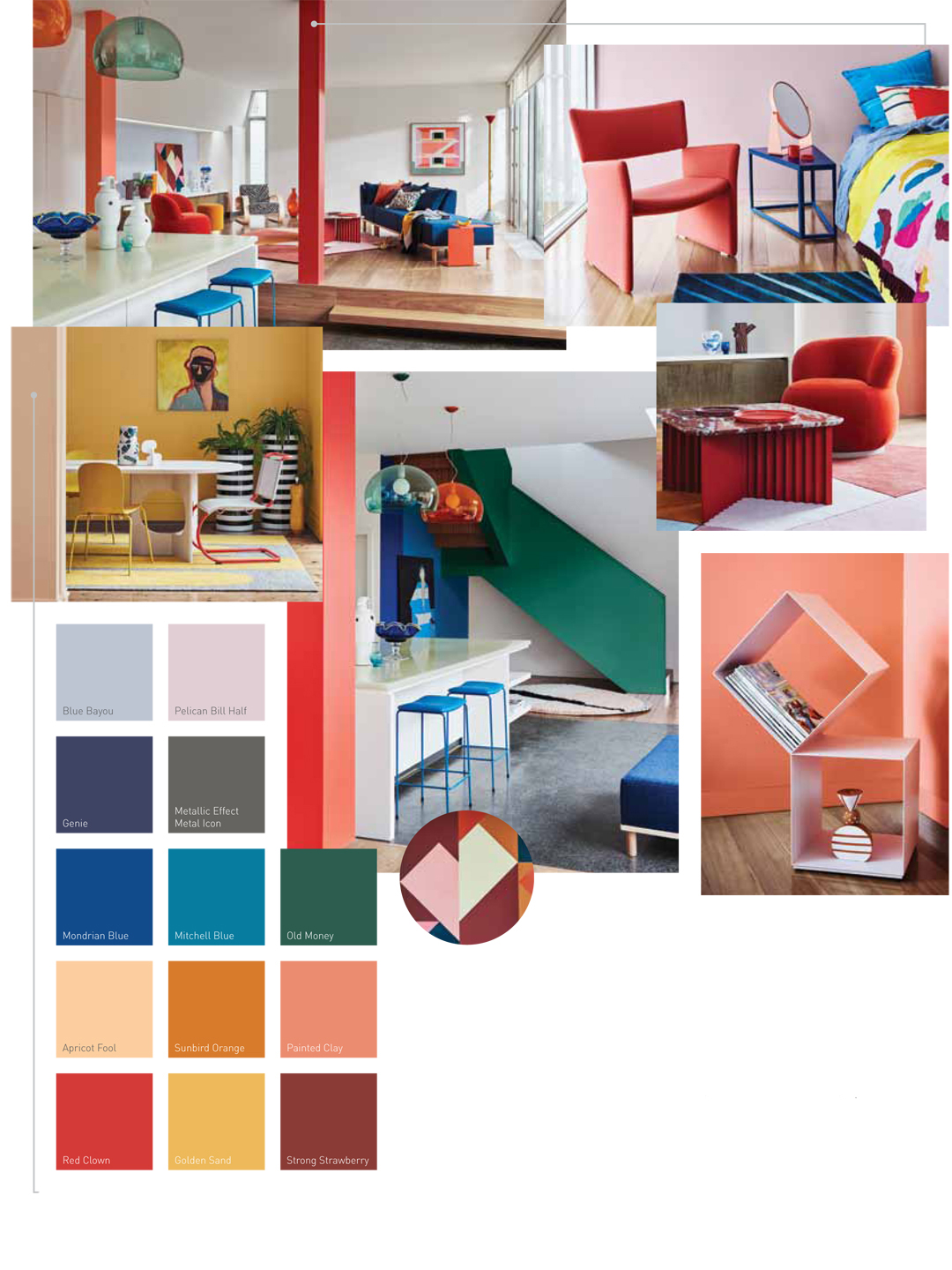 Welcome to the life of 'I', an imaginative frontier inspired by modern multicultural influences including sci-fi fantasy and anti-selfie culture, where we turn our backs on social media's critical gaze looking to only please ourselves. Consequently, we join the brave and confident nonconformists, reject labels that don't fit, shed our conventional camouflage and take on a more flexible view of the world with fun, spirited energy and spontaneity. Weird is wonderful and to express yourself is the true path to happiness.
Imperfections are celebrated as unique and customisation to craft bespoke products is allowing us to express ourselves, rather than settle for someone else's version. The Identity palette is all about bold experimentation combining block colour, clashing patterns, texture and mixing gloss levels, resulting in an 'anything goes' look that is playful, optimistic and youthful. Pale colours are a base for unusual combinations of saturated blue, purple and oranges.