Buying land and building a home in Melbourne is an exciting prospect, but an expensive investment. As such, dual occupancy homes are growing in popularity to lessen the financial burden of purchasing a new home. Tegan Lyon sits down with Marque Property Group's dual occupancy specialist, Travis Arthur, to discuss the lucrative investment opportunities associated with dual living dwellings and how this style of home might be perfect for your family.
Written by Tegan Lyon.
CLOSE QUARTERS
A dual occupancy home is defined as two dwellings situated on the same block, either detached or sharing common walls. The three types of dual occupancy designs are granny flats, detached-style homes and duplexes or 'side-by side' houses, each suited to various needs and requirements.
A granny flat is often scaled down in size, and either integrated or detached from the main home. A granny flat design is tailored for family members who wish to stay connected but maintain a level of independence; this often includes elderly parents and particularly young adults.
A side-by-side home shares a common central wall and a mirrored design but contains two separate entrances and is therefore considered to be separate dwellings. With the right land and locale, this design affords inhabitants all the same luxuries of a traditional home, simply duplicated. "Often we find our owners will have enough space with a side-by-side design that they can still have generous yards with ample room for family-sized outdoor entertaining and relaxing," Arthur says.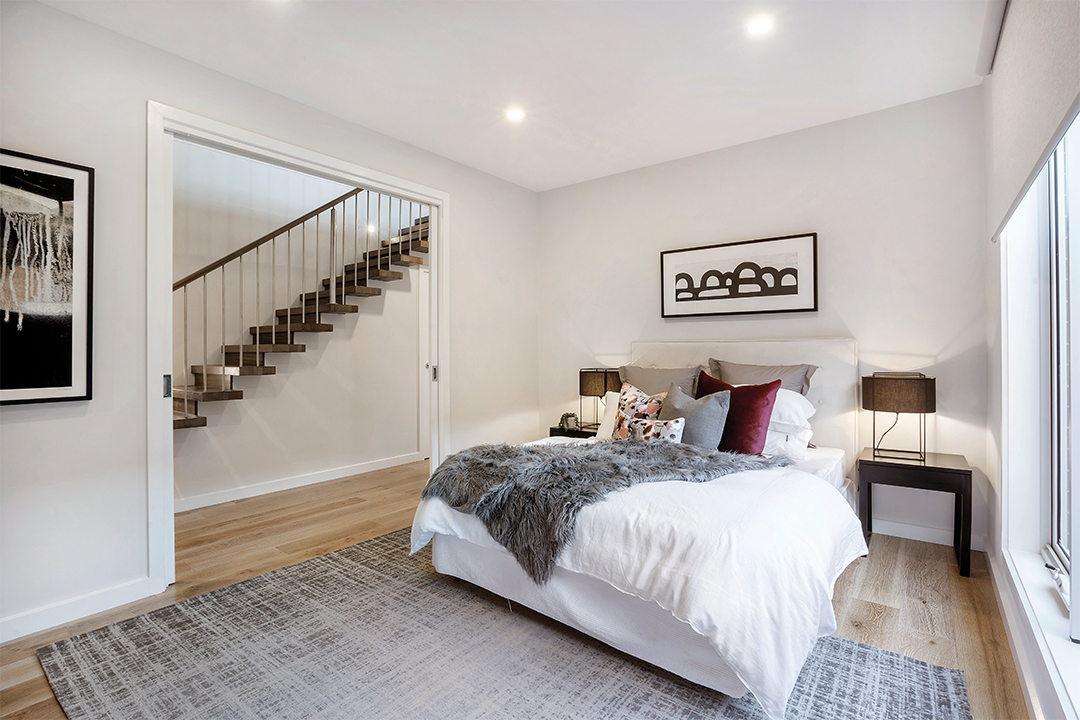 In contrast, a detached-style dual occupancy does not share any common walls but both homes sit close to each other on the same block. With duplexes or detached dual occupancy homes, the homeowner can either rent out each residence and collect both incomes or occupy one and lease the other. This arrangement is ideal for empty nesters who want to keep their location but downsize with a new build that requires less maintenance and reduced running costs.
THROUGH SPACE AND LIGHT
While dual occupancy homes function the same as any standard home, there are several key design distinctions, namely, what is known as a "dividing wall". "Our dividing wall system is sound rated to keep privacy between the dwellings," Arthur says. "All of our windows are double glazed, which as well as providing excellent heating and cooling benefits, also provides acoustic soundproofing." 
This dividing wall is an asset, particularly if you hope to lease one or both homes within a duplex and maintain privacy for renters.
With two homes sharing the same lot, dual occupancy dwellings are often narrower in width and longer in length compared to a traditional home. Marque Property Group offers prospective homeowners the choice of four pre-designed, side-by-side luxury townhouses. "All designs offer the option of three or four bedrooms plus a separate study," he says, "we can also build a client's own plans or provide a full custom solution." The company favours light colours and clean lines for a distinctly modern appearance, while render, Hebel, face brickwork, and feature timberwork tend to be the most popular external finishes. "We aim to include features for certain areas to maintain neighbourhood character, or to meet our client's requests," Arthur adds.
A dual living layout lends itself perfectly to an open-plan design, which provides a greater sense of space and better exposure to natural light. Consider a pitched roof to further enhance the feeling of height throughout the abode, and if you are constructing a duplex, it's important to consider alternative window placement, as your common wall will not have any windows. "We are also able to include large skylights with a plaster shaft above staircases which can provide ample sunlight to the centre of the homes," Arthur says. In addition to skylights, natural light can also be harnessed through bi-fold or glass sliding doors and kitchen window splashbacks.
If size and scale is still a concern, the team at Marque Property Group are experts in maximising dual occupancy floorplans to give family members their own space and privacy. "Our Nolan design offers many design features normally only found in much larger prestige homes," Arthur elaborates. "[This] includes clever features such as a butler's pantry, children's retreat, generous-sized bathrooms, large bedrooms, and master bedrooms with luxurious en suites and a walk-in robe."
A NEW LEASE ON LIFE
Building or purchasing a dual occupancy property is financially beneficial to both an investor and a standard home buyer. While building a new dual occupancy home will typically present more upfront costs than a standard home, the investor or homeowner will only have to pay stamp duty for one block of land. "Inner suburb home and land prices can be very expensive and inhibitive for many budgets, but a dual occupancy offers a viable option for many budgets as usually the land component is only half the cost of what a traditional one home on one block offers."
With dual living residences, an investor can profit from two incomes off a single asset, therefore producing a much higher yield. Before buying or building your dual occupancy investment, it's important to factor in location to entice renters, giving preference to quiet suburban streets in close proximity to transport and schools. Not only a lucrative opportunity for a single investor, dual occupancy homes offer an accessible entrance into the buyer's market for those willing to co-own an investment property.
Dual occupancy builds are also a great option for a home buyer wanting to live
 in one home and lease the other to subsidise their mortgage. Alternatively, an existing homeowner may wish to construct an ancillary granny flat or conduct a knockdown rebuild to supplement their income without the associated costs of purchasing additional land. Before embarking on a new build, it's important to adhere to council regulations and understand the zoning specifications required to subdivide your block into two separate lots. "By working with the best town planners, Marque Property Group are well-experienced to advise on the regulations of each site from the outset, before clients spend thousands of dollars," Arthur explains. "The designs are also [created] to comply with the onerous requirements of many of the local councils."
A dual occupancy property has great financial potential for new homeowners and seasoned investors, as well as many practical benefits for growing families looking to make additions to their existing block, or empty nesters wanting downscale and retain their land. The decision to buy or build a new home requires long-term commitment and ongoing expenses, but with a dual occupancy dwelling, you are guaranteed a worthwhile investment for your future and family.
Images courtesy of Jigsaw Projects