Whether it is used for relaxing with a cool drink and a good book, or entertaining guests with a casual dinner party, an alfresco area is a wonderful addition to your home. Annie Slevison chats with Pino Savoia, the retail manager at Outdoors Domain, about creating the perfect outdoor space for the whole family.
Regardless of its size or structure, a modern alfresco area will expand the usage of your home and backyard. By incorporating clever design concepts, you can build a space that is perfectly suited to your unique lifestyle. Pino Savoia recommends carefully choosing a layout that will serve a direct purpose in your house and enhance its value. "Look to see what is most practical for your alfresco space, and build for your needs and budget," he says.
As you design your alfresco area, consider how often you like to entertain outdoors. It is important to remain realistic when planning the space and only include what is necessary to your daily life. "There is no need to build for a big Christmas gathering if you only play host once every three years," Savoia says. A realistic design approach will not only save you financially, but your time will be better spent elsewhere instead of trying to maintain an unused space.
FLOW AND FUNCTIONALITY
An alfresco area can be the bridge that seamlessly connects the interior of your home with your garden. Creating a cohesive design between the two zones will ensure an easy flow from the back door to the backyard. Savoia recommends adapting your alfresco area with colours and materials that suit the aesthetic of your home for visual continuity. Including the same styling elements outdoors as you have indoors will help achieve a cohesive finish to the overall look of the property. Further, fully-retractable glass doors are an effective solution when trying to decrease barriers between the zones. Not only are these doors trendy, but they are also helpful when you need extended access to the outdoors.
When it comes to choosing outdoor furniture, consider the size of your alfresco area and who will be using it. For a large space, Savoia recommends including a table and chairs for proper dining, and casual seating for informal meals. "Find a setting that fits your space; perhaps you can join a dining set with a comfortable outdoor lounge or bar set," he says. Having multiple seating options will help section off zones in your alfresco area and use the entire space to its full potential, especially when entertaining guests.
An alfresco area can be the
bridge that seamlessly connects
the interior of your home
with your garden.
For smaller outdoor spaces, less is always best. Filling your alfresco with large furniture will
overwhelm the area and create an impractical environment. Instead, choose tables and chairs that can be easily stored away when extra room is required. "Find a small setting that complements your space and allows you to move feely as required," Savoia says. "A lot of the settings at Outdoors Domain either stack up or pack into themselves to free up space when not in use." If space-saving features are essential in your alfresco, get creative by including built-in seating ledges. This will accommodate for larger groups of people, without compromising your streamlined aesthetic.
FANTASTIC FEATURES
The latest trends in outdoor technology and appliances are all about making your life easier and
and more enjoyable. Just as the kitchen is the heart of your home's interior, a customised alfresco entertaining space is the social hub of your backyard, and should be designed as such. "Cabinex allows you to design a bespoke outdoor space and then implement the appliances you want, within your budget," says Savoia.
The innovative kitchen brand offers a range of alfresco options, including waterproof carcasses that are available now at Outdoors Domain. Outdoor meal times should be simple and carefree, which is why a barbecue is the ideal addition to your alfresco area. Having a combined barbecue and food preparation zone allows you to complete tasks in one convenient place, but be sure to choose surfaces that are easy to clean and maintain. Materials such as granite or stainless steel are hassle-free and will stand up against the elements if your area is not enclosed.
If you want to make your alfresco area feel like home, Savoia recommends including household basics with a fun twist. "Outdoor fridges add a hugely useful element to a barbecue area and complement the surroundings beautifully," he says. "Smokers and pizza ovens are also hard to look past!" When choosing your outdoor appliances be mindful of your available space and don't choose items that are so large you don't have enough room to enjoy them.
A considered lighting system is essential for creating atmosphere in your alfresco area. Consider dimmable LED downlights for a soft and relaxing touch, as well as feature wall lighting for visual interest. You can also include spotlights that focus on particular areas in the garden to create a beautiful view.
YEAR-ROUND BLISS
The Australian climate is unique; being both beautiful and harsh, it's important that your alfresco area has adequate shading so you can fully enjoy the space in summer. For a sophisticated way to provide sun protection, Savoia recommends installing elegant bespoke screens. "Custom-designed outdoor screens can be ordered to fit your home perfectly, and suit its aesthetic," he says. For an alfresco area that isn't directly connected to your house, shading can come in many forms, including a louvered roof, timber battening, a shade cloth, a mature tree or a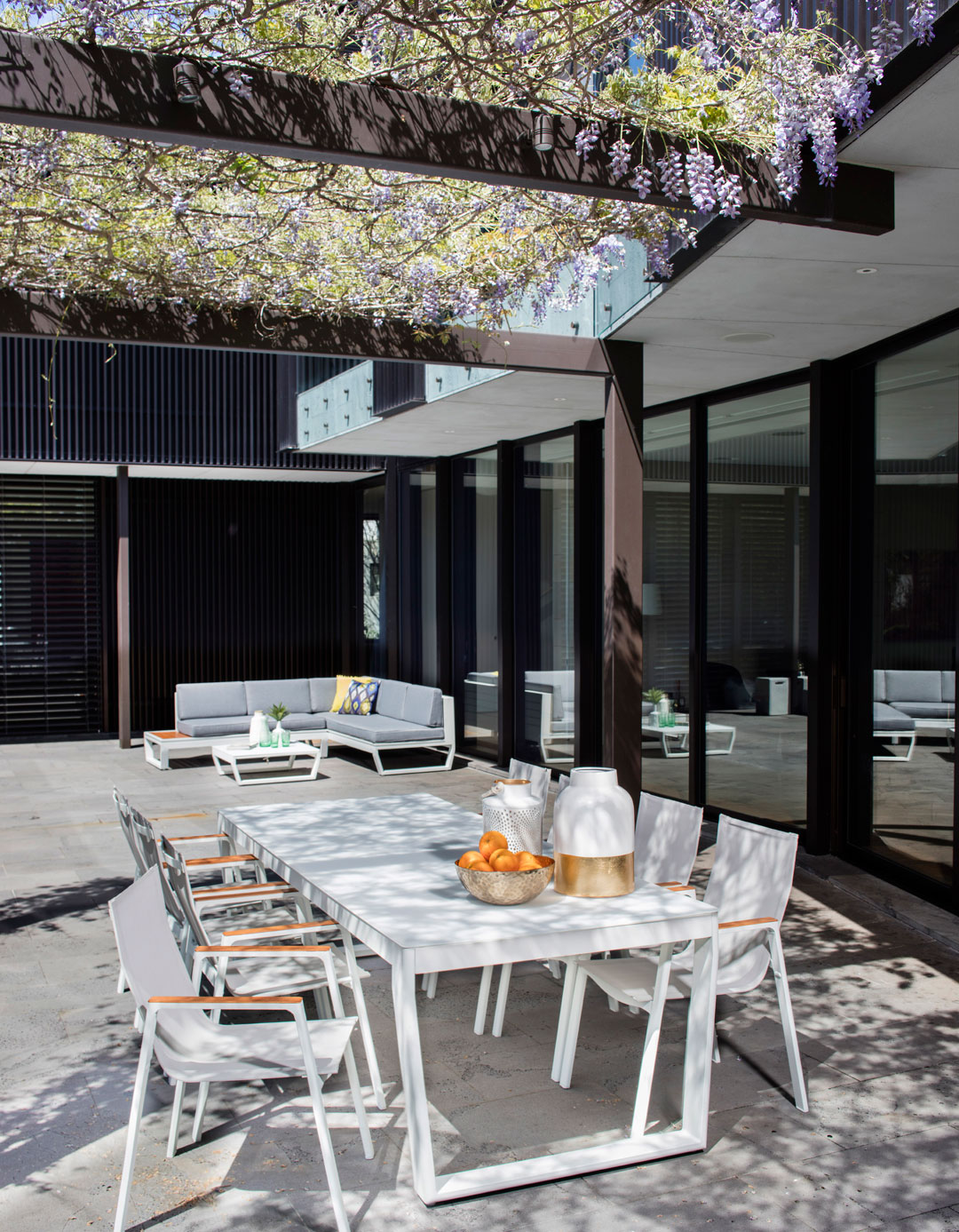 frame for a climbing vine. If suitable, a ceiling fan is also a smart addition when trying to beat the heat.
Materials such as granite or
stainless steel are hassle-free and
will stand up against the elements
if your area is not enclosed.
To encourage usage in the winter months, Savoia suggests keeping the space warm with an electric heater from Outdoors Domain. "This is a great inclusion for any home in Melbourne and will stretch out the entertaining season. Slimline and inset electric heaters from Bromic or Gasmate have been hugely popular year-round solutions," he says. Another great option is a fireplace, which will not only keep you toasty but also visually enhance the space.
With winter comes rain, so it is vital that your outdoor furniture is waterproof. "Choose waterproof frames and quality cushions that don't fade. If you decide on timber options, just know they will require maintenance," he says.
Be sure to give your alfresco area the same love you give to your home, that way a wonderful outdoor experience will always be waiting whenever you step out into your own backyard.
To learn more about how you can create your dream outdoor space, visit www.outdoorsdomain.com.au.
Images courtesy of Outdoors Domain